Kano varen Loenen? Wil jij kano varen op het Apeldoorns kanaal? Kom dan langs bij de Bron Outdoor. Bij dit kanoverhuur bedrijf kan je kano's huren die jij mee kan nemen het Apeldoorns kanaal op. Ben jij op vakantie in de buurt van Loenen en Apeldoorn en wil je de omgeving beter leren kennen? Dan is een kano huren een goede oplossing. Je komt langs allerlei plaatsen.
Bij de Bron Outdoor bieden we een arrangement aan waarbij jij een kano kan huren, vooraf kan genieten van een kopje koffie en gebak en dit kan afsluiten met een lekkere lunch.
Het is net alsof je op de Loosdrechtse plassen, Mijndense sluis en de rivier de Vecht en de Ijssel aan het varen bent!
Met diverse plaatsen waar de tocht langs kan varen en de verschillende stijgers waar je de boot even kan parkeren, kan je de omgeving lekker gaan verkennen met de familie. Een mooi dagje uit voor in de zomer!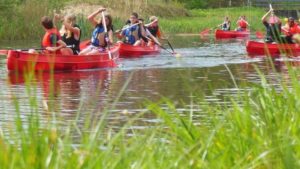 Het arrangement van de Bron Outdoor op het Apeldoorns kanaal
Je kan bij ons eenvoudig een kano of een sup huren via de website. Als je dit gedaan hebt dan kom je bij Bistro de Bron je kano ophalen. Daar kunnen bezoekers vooraf nog even genieten van een kop koffie en gebak.
Na de instructies kan je de kano van de trailer af halen en in het water leggen. Uiteraard krijgt iedereen ook een zwemvest, want het kan zo maar zijn dat je kano omvalt en dat je moet zwemmen. Nu de kano in het water ligt kan het kanovaren beginnen.
Eenmaal liggend in het water kan je twee kanten op. Je kan ervoor kiezen om richting Hall of Apeldoorn te gaan. Links of rechts om. Onderweg vindt je allerlei punten waar je onder een brug door moet en vind je mooie natuur. Tussen Loenen en Apeldoorn in en langs het Apeldoorns kanaal staat ook een oude papierfabriek om te bewonderen. Kies je dus voor een paar kilometer richting Apeldoorn of ga je de andere kant op?
Na een klein stukje vaar je weer terug naar het startpunt, waar je de kano of de kajak weer terug de trailer op kan tillen.
Een leuke plek voor pleziervaart
Bij de Bron Outdoor in Loenen kan je dus terecht voor verschillende arrangementen. Als je geen zin hebt om het kanaal op te gaan, dan is het ook mogelijk om de route te volgen met de fiets voor eventuele foto's. Blijf dan wel oppassen voor gevaren, zodat je niet het water in valt!
Kano varen in Eerbeek en omgeving? Contact opnemen kan gemakkelijk via onze website!