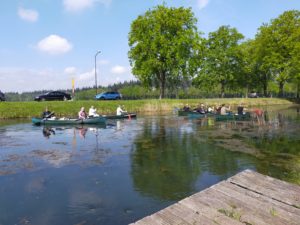 Vaarlocatie: Apeldoorns Kanaal
Start: Bistro De Bron, Hoofdweg 215, Loenen
Programma:
Ontvangst met koffie en huisgemaakte appeltaart bij Bistro De Bron. Hier ontvang u een korte instructie, krijgt u peddels en eventueel een zwemvest. Bij de Kano trailer kunt u zelf uw kano pakken en te water laten.
U gaat heerlijk het water op en kunt richting Lieren of richting Hall. Onderweg zijn er diverse steigers waar u even kunt  aanmeren om aan de kant uit te rusten voordat u weer terug naar Loenen/Klarenbeek gaat.
Bij Bistro de bron heeft u de keuze voor een lunch* met een uitsmijter, kroketten of broodje gezond (inclusief één drankje)
*De lunch kan vervangen worden door een Plate gerecht met hamburger, schnitzel of saté (meerprijs €7,50 p.p.)
Arrangement prijs:  €29,50 p.p.
Uiteraard is het ook mogelijk om los een of meerdere kano's te huren.
alleen kano prijs: € 12,50 pp vanaf 2 personen.