Kano varen Eerbeek? Wil jij graag kanovaren in het Apeldoorns kanaal? Kom dan bij de Bron Outdoor, dit is de plek waar jij kano's kan huren voor een leuk dagje uit! Ben jij toevallig op vakantie in Rheden, Loenen, Zutphen, Dieren, Apeldoorn of ergens op de Veluwe en wil jij de omgeving beter verkennen? Hoe leuk is het om dat met een gezelschap te doen met de kano?!
Wij bieden een arrangement aan waarbij jij een kano kan huren, vooraf kan genieten van koffie en gemak en kan afsluiten met een lekkere lunch. Dit alles voor €24,50 per persoon! Samen met jouw ouders, kinderen, familie of een ander gezelschap huur je eenvoudig bij ons kano's.
Hoe ziet een arrangement op het Apeldoorns kanaal er uit?
De kanoverhuur bij ons is eenvoudig te reserveren via onze website. Wanneer jij het kanovaren hebt gereserveerd kun jij bij Bistro De Bron in Loenen terecht. Hier kunnen onze bezoekers eerst genieten van koffie en appelgebak waarna het kanoën kan beginnen.
Met de nodige instructies en een zwemvest kan je de kano van de trailer pakken en deze in het water plaatsen. Je kan er dan voor kiezen om richting Hall of Apeldoorn te kanovaren. Op deze route heb je op verschillende momenten de mogelijkheid om de kano aan de kant vast te maken zodat je even kan uitstappen en ben je in de gelegenheid om de omgeving nog beter te verkennen.
Na verloop van tijd is het de bedoeling dat je met de boot weer terug gaat naar het eindpunt, dit is ook het beginpunt. Als jullie dan weer terug zijn met de kano's dan staat er een lunch voor jullie klaar die inbegrepen is in het arrangement.
De kanoverhuur kan ook alleen voor de kano en zonder het gehele arrangement. Dit is afhankelijk van jouw wensen.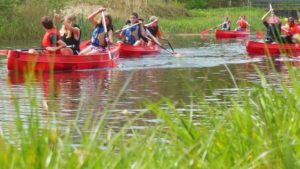 Kom bij ons langs voor de leuke uitstapjes!
Hoe leuk zijn sportieve activiteiten; met de mountainbike op stap, waterfietsen op een grote plas of huur een fiets. Bij ons is de verhuur van verschillende dingen mogelijk, zo kun je kiezen voor een kano, kajak, suppen, steppen of je kan bij ons touwtrekken en handboogschieten. Wij maken je graag een arrangement op maat.
Kano varen in Klarenbeek of regio Apeldoorn? Ben je dus opzoek naar een activiteit die erg leuk is voor jong en oud? Maak dan een reservering!